Google Analytics can be a valuable tool for website analytics. But the data you need to understand blog performance isn't always the information general web analytics tools focus on.
Your blog's budget relies on your ability to prove its value to managers and execs. Without reporting tailored to measure blog and content performance specifically, you may not have the right data to showcase the ROI of your content — or the insights you need to consistently grow that performance.
That's why you need a reporting solution designed for content and blog analytics — a tool that gives you access to the metrics and insights that actually matter for your blog.
Best Blog Analytics Tools for 2020
In this article, we discuss 12 of the best blog analytics tools to add to your stack.
We start with the top all-in-one blog analytics tools — then dive into the best add-on tools to give you more insights into search, keyword optimization, and the customer journey.
All-in-One Blog Analytics Tools
Proving the ROI and value of your blog starts with having all the information you need, right at your disposal. The four tools in this section give you that — a well-rounded look at the core analytics outlining your blog performance.
While each of these can stand alone, you can also use them together with each other or any of the add-ons in the second and third sections for richer, more in-depth analytics.
01. Google Analytics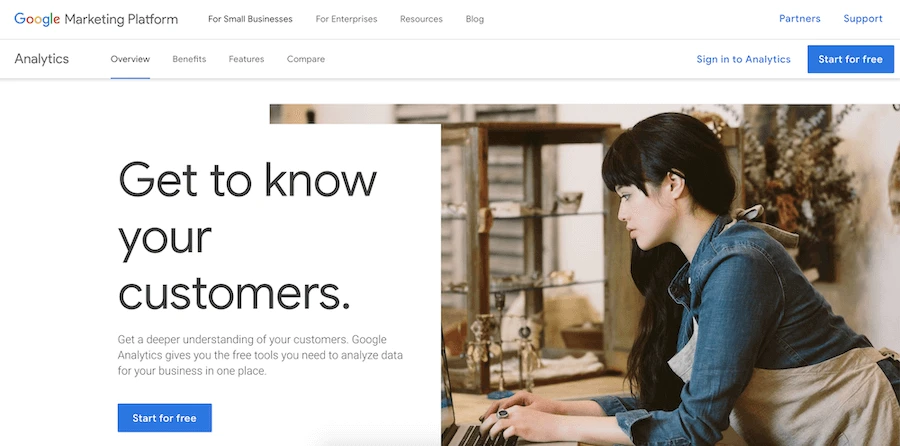 Not much needs to be said about Google Analytics. It's the de facto web and blog analytics tool because it offers a wealth of data, right from the horse's mouth (Google). There's no software to setup or code to deploy—Google Analytics just needs to know your domain name and the data's all there.
Analytics is also a part of the broader Google Marketing Platform, which makes it easy to tie all of your marketing efforts together.
Pricing
Google Analytics is a completely free tool.
02. Tableau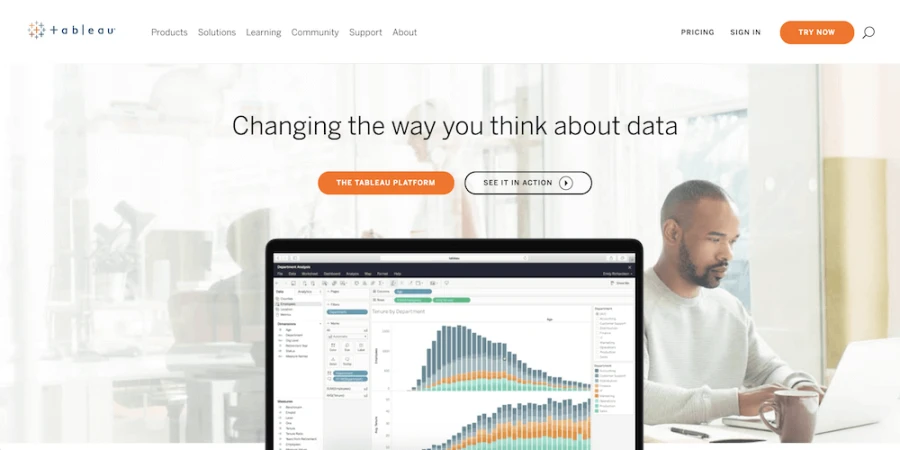 Content marketers aren't data-savvy across the board—plenty are uncomfortable inside analytics tools (like Google Analytics) and have trouble making sense of the numbers they find there.
Here's a secret: most executives and stakeholders are even less comfortable with blog analytics.
That's where an all-in-one reporting tool like Tableau sets itself apart. Tableau helps you visualize your blog analytics and really understand what all the numbers mean. It helps you keep track of the numbers that matter for your company, without digging through all the stuff that doesn't.
Pricing
Tableau Creator: $70 per user/per month
Tableau Explorer: Starts $35 per user/per month (with a minimum of 5 users)
Tableau Viewer: Starts at $12 per user/per month (with a minimum of 100 users)
03. Momently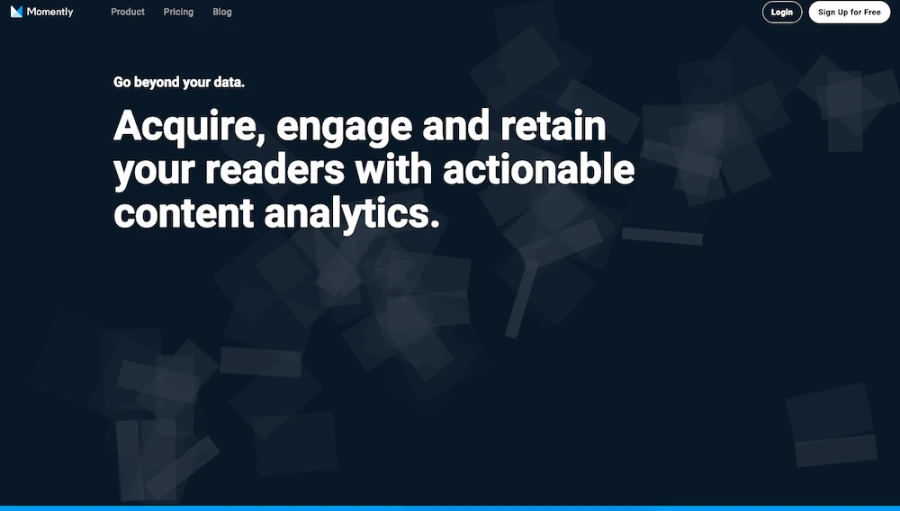 Momently's analytics dashboard is similar to what Tableau offers, with one key distinction: Momently presents your data in a way that makes perfect sense to stakeholders with minimal content acumen.
Instead of using industry language like bounce rate and session duration, Momently frames analytics in common sense terms.
That framing cuts down on the time you have to spend digesting reports and analytics for higher-ups.
Pricing
Free
Personal: $9 per month
Business: $29 per month
Enterprise: Contact for pricing
04. HubSpot Marketing Hub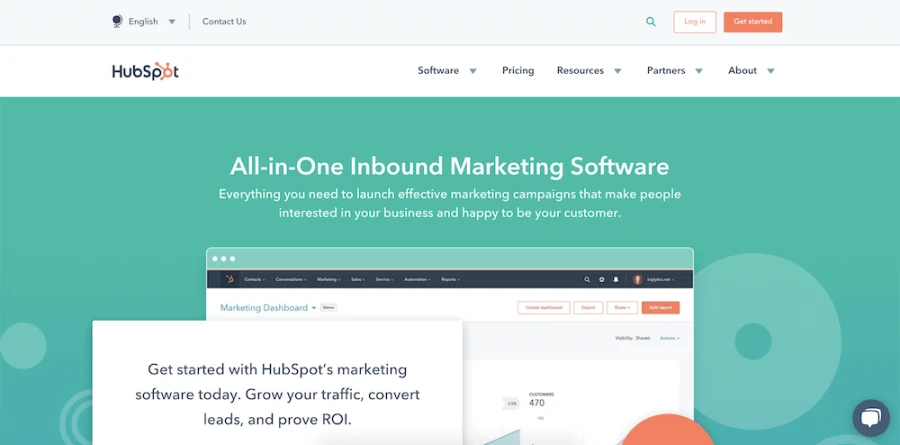 One can hardly talk about marketing analytics without talking about HubSpot. Their software is designed to help you discover the content that's working hardest for you—and identify the content that isn't working so hard.
The Marketing Hub software brings all analytics together, from PPC and social media ads to search. And HubSpot prioritizes tying all that data to your bottom line. When you connect with HubSpot CRM, it's easy to track how content assets and blog articles contribute to sales and conversions.
Pricing
Free
Starter: Starts at $50 per month
Professional: Starts at $800 per month
Enterprise: Starts at $3,200 per month
Blog Analytics Tools for Search and Keyword Optimization
The analytics tools we've rounded up in this section may offer more than search and keyword data — but SEO is where they really shine and what earned each of them a spot on our list.
05. SEMrush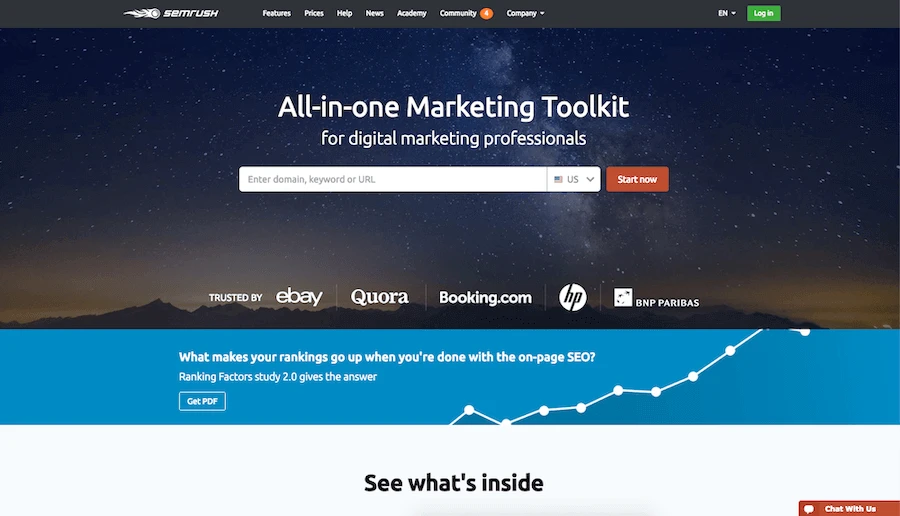 One of the biggest weaknesses of Google Analytics is missing information. If you've ever logged in, you've seen how much traffic ends up in the "not provided" bucket. That's not helpful.
SEMrush solves this problem with their powerful blog analytics tool. Keep track of traffic, keywords, ranking positions, and engagement data (including social shares). Their suite brings together all the channels that contribute to your blog's performance—from social media and PPC, to organic search, and even link-building.
A research and analytics tool all wrapped up into one, SEMrush even offers data-backed recommendations for optimizing existing blog content and identifying trending topics you can post about.
Pricing
Pro: $99.95 per month
Guru: $199.95 per month
Business: $399.95 per month
Enterprise: Contact for pricing
06. Google Search Console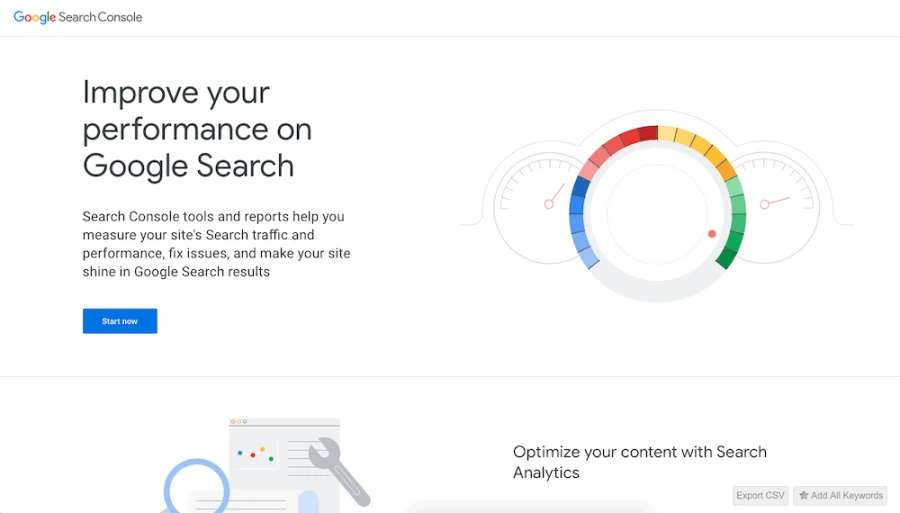 Google Search Console goes a step beyond what Google Analytics offers. In addition to reporting on your blog performance, Search Console gives you the insight needed to "make your site shine" in search results.
The biggest benefit of using Search Console is that it enables you to see what Google sees when it crawls your blog—giving you a peek behind the curtain. You get reports on the blog's mobile performance and added insights to help you rank for and improve rich snippets.
Pricing
Google Search Console is free!
07. Clearscope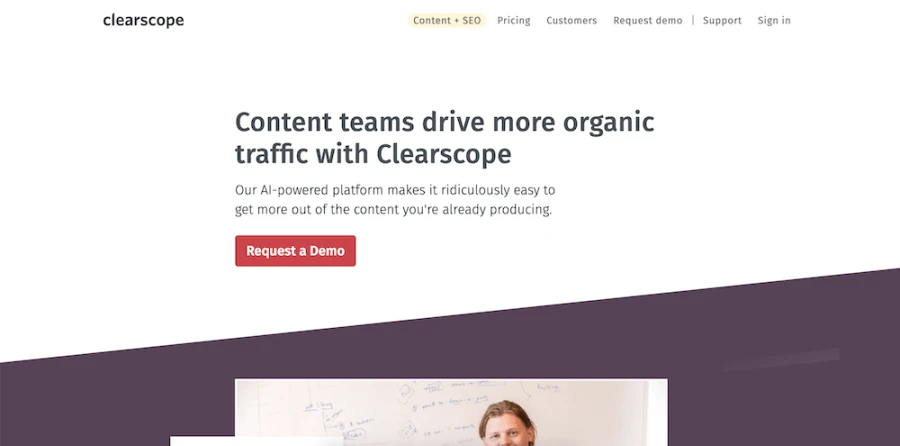 Clearscope's software is more focused on content optimization — they're all about getting better performance out of the content you're already creating.
When you build blog posts inside Clearscope, the AI-powered platform suggests relevant terms and keywords to include and offers tips on how to rank for them. Their base pricing plan includes up to 50 content optimization reports per month, so even very busy bloggers can get all the insights they need to write better content.
Pricing
Professional: $300 per month
Agency & Enterprise: Contact for pricing
08. MarketMuse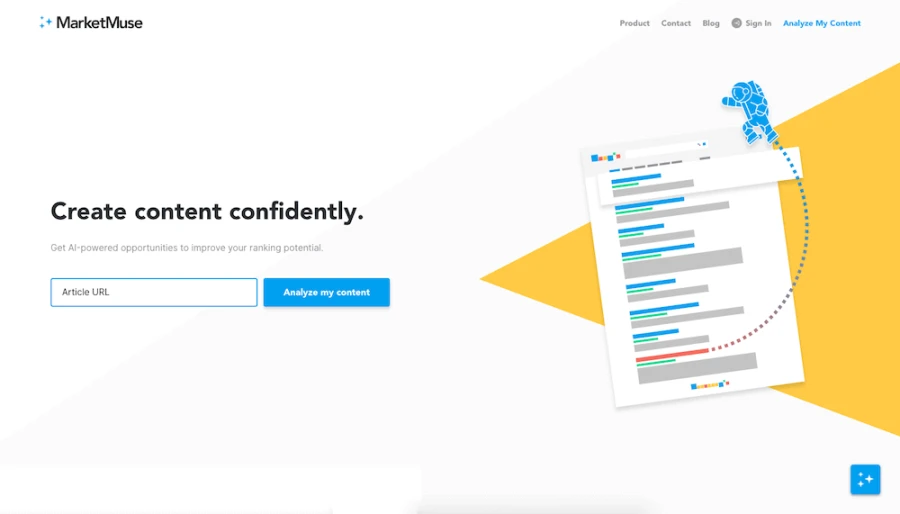 Similar to Clearscope, MarketMuse focuses on providing you with all the AI-powered insights you need to boost your chances of ranking—before you hit publish.
Their content optimization tool even makes it easier for the whole content team to work together better, from SEOs and content strategists to writers and editors. The best part? MarketMuse's objective measurement of content quality enables you to project the ROI of each blog post, before it goes live.
Pricing
Contact MarketMuse for pricing information.
Blog Analytics Tools for Tracking the Customer Journey
Seasoned content marketers know that the ROI of a blog is about a lot more than keywords and traffic volume. It's about how your audience interacts with your content, across the web. It's about what you do with that traffic—how it moves people through the customer journey and contributes to the bottom line.
The tools in this section are designed to help you measure and report on that side of the blog performance equation.
09. Leadfeeder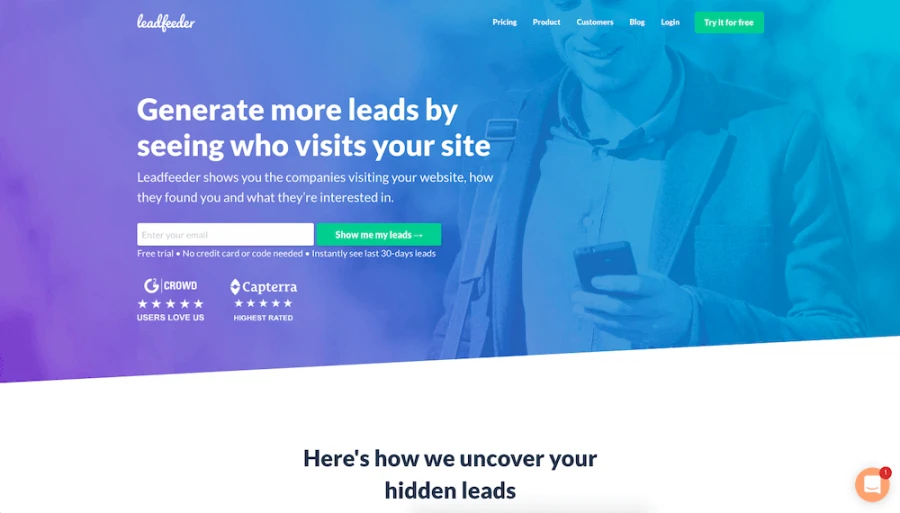 We built Leadfeeder to give marketers more insight into who visits your website and what they're interested in. Our tool works together with Google Analytics to identify companies that visit your website—and that includes the blog.
That can be a gamechanger for B2B content marketers, allowing you to see the companies your blog attracts and the content they consume there. Not only does that help executives put a face to all the numbers, it can also help inform further sales and marketing efforts—driving up your blog's conversion rate in turn.
Pricing
Lite: Free
Premium: from $55 per month
10. Chartbeat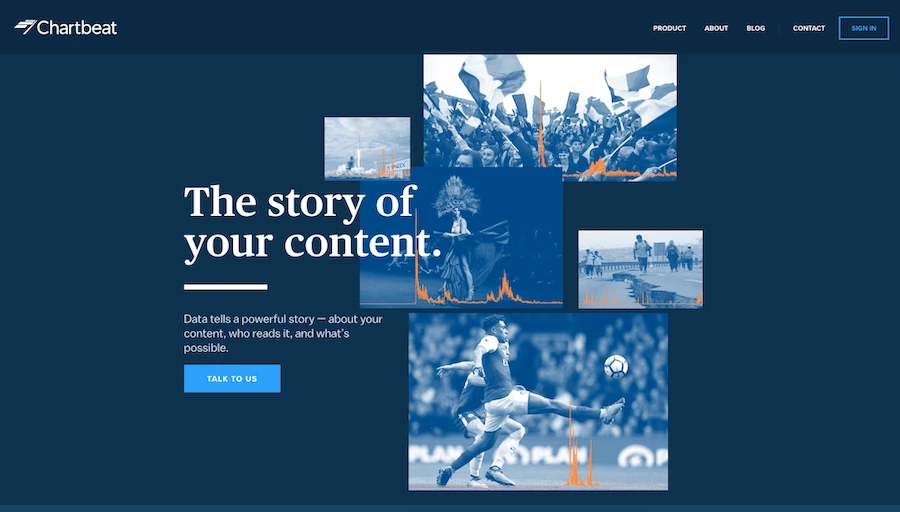 Chartbeat offers reporting and dashboard features designed to give you a deeper picture of audience engagement, instead of traffic numbers. You can view data in real-time or use the historical dashboard to see trends and changes.
This analytics tool also offers some of the best features for blog reporting across multiple websites or clients — making it easy as pie to compare metrics across blogs and offering up a holistic view of performance across your portfolio.
Pricing
Chartbeat offers 3 plans: Basic, Plus, and Premium
Contact them for pricing information
11. Bitly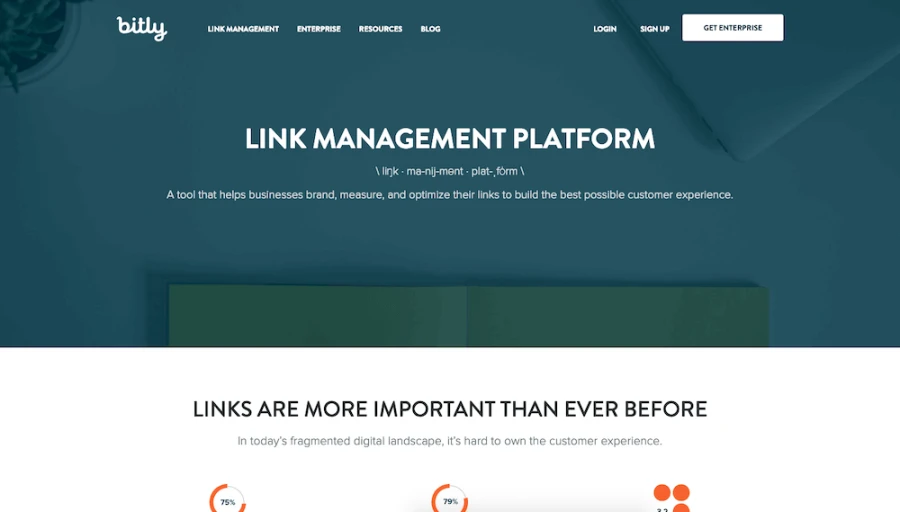 You've probably heard of Bitly as one of the most popular link shortening tools—but they do a whole lot more than condense URLs.
Their shortened links are unique, and the analytics features enable you to track those links (just like a traditional UTM tracker.) That means Bitly collects data, in real-time, from across any and every channel where you share that link. Bitly OneView brings it all together into a single custom and intuitive dashboard.
Pricing
Free
Enterprise: Contact for pricing
12. Impactana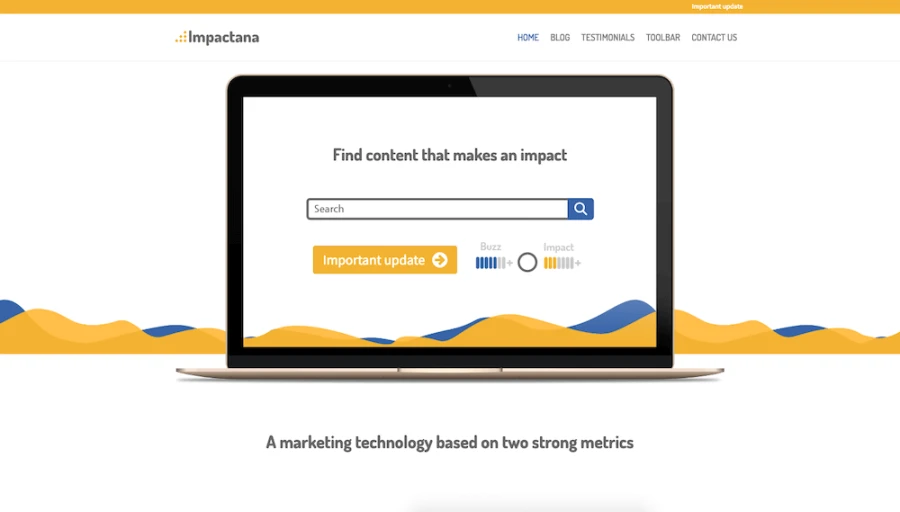 Impactana is committed to helping you measure some of the less tangible (but still vital) aspects of blogging and content marketing. Impactana blog analytics combine data like backlinks and social media engagement into one report — and gives you a concrete measure for "Buzz" and "Impact."
The toolbar even makes it easy to see those measures for individual blog posts. Instead of filtering through Google Analytics, just pull up the actual blog article and the toolbar will show you the metrics in real time.
Pricing
Impactana is part of LinkResearchTools, which offers four plans:
Superhero Small Business: $408.23 per month
Superhero Startup: $681.14 per month
Superhero Plus: $1,136 per month
Superhero Brand: $2,841.70 per month
Blog Analytics Tools to Prove Your Content's ROI
At the end of the day, blog analytics tools have two primary functions: helping you identify opportunities to improve performance and giving you the information you need to prove the blog's ROI to stakeholders.
The perfect reporting stack depends on the analytics that matter most, both to you and to executives or clients — and the right combination of these 12 tools offers all the insight you'll need to grow the blog and the budget.