Today, we see developers constantly working to improve their apps to bring in features that attract users. These improvements are happening due to changing user requirements. Earlier, users were happy with apps that could run smoothly even if their interface was not up to the standard. But now things have changed. Today people crave apps that fit in with their day to day needs. Besides, it is tough to get a mobile apps design inspiration that attracts the users.
Developers constantly work on getting new ideas, but the demand for a responsive and attractive interface for an application remains a constant need. The UI design trends today in the mobile app industry too portray a similar story.  
The way mobile UI has transformed, it has become crucial to keep searching for a new idea. Designers have to keep an eye on everything that has come into trend or that might be in trend when it comes to UI mobile apps designs. The design should look decent on the eye but it should also be functional and responsive, that is what users demand today.
But let's understand what UI is before proceeding with the examples.
As per a recent report, 67% of global app users today uninstall an application due to its poor user interface (UI).
What is the User Interface?
Every software application that people use today has a user interface (UI). In simplified terms, a UI is essentially the way users interact with an application or a website. In terms of a mobile application, it is the way users use an app on the phone.
No web application or mobile application can be a success without an engaging user interface. It is vital for the designers to come up with a design that works a treat.
Let's understand the factors that make UI so significant today, in detail.
Importance of User Interface
A fine user interface may depict a hike in business for a developer. Here are three of the many factors why UI has become all the more critical in mobile app development today:
01. Users Today Demand Engaging Apps:
Today, the majority of users demand apps that are engaging and interactive. It is all the more imperative today to have a UI that catches the eye of people. Take an example of a restaurant app, users want to scroll down the food menu with ease and have to be clear about what the restaurant has to offer. This can be achieved when the UI is designed with due care.
02. Valuable for Business Hike:
Perhaps an uncomplicated thing to understand, apps with a highly interactive user interface end up getting installed by thousands and millions of users. That eventually means a rise in your business as more users get to engage with your product.
03. Demand for User-Friendly Apps:
Complexity is one of the unacceptable things for an app. Today, users prefer not to use an app that has a complex UI design. With a favorable UI design, you can tackle the complexity of an app.
Now that we know the factors, let's take in some recent examples of applications with a successful user interface (UI).
Fresh Mobile UI Design Examples
The UI examples given below are of those amazing applications that have adopted the best user interface designs and are running successfully. The approach and implementation of these applications are worth understanding. It is not an obvious task to develop an app that is both useful and has a great user interface. Many developers are required to follow certain guidelines for app design to create an app that people prefer.
Having a stable mobile UI design is vital to attract users. As it goes, "The first impression is the last impression." Having said that, it is important to create a sound impression. Below are some applications that developers can look up to for their next mobile UI inspiration:
01. Jack AI Employment Agent 
The design of this useful application is worth understanding. It has been developed as an AI-based application that allows users to search for the best possible jobs. The application starts with a short interview with a chatbot which is indeed engaging. The concept has been designed to welcome users on the app.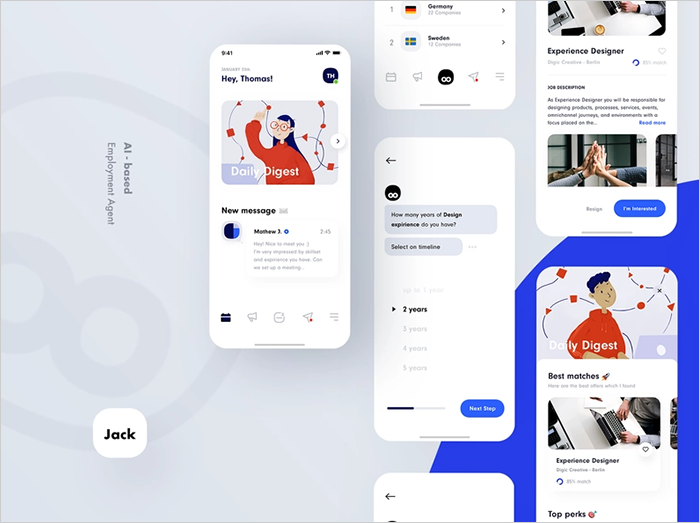 The chatbot asks the users a few questions about their related field of experience. They are then provided with job recommendations based on their answers. It is one of the freshest and easy applications with fine UI and something that has not been seen before.
02. Zava Studio Concept
The design of this application is considerably creative. It works smoothly and has bright colors to attract users. Zava studio concept is one of those apps where graphic designers have really put in their soul and developers around the world can definitely look up to this app for inspiration.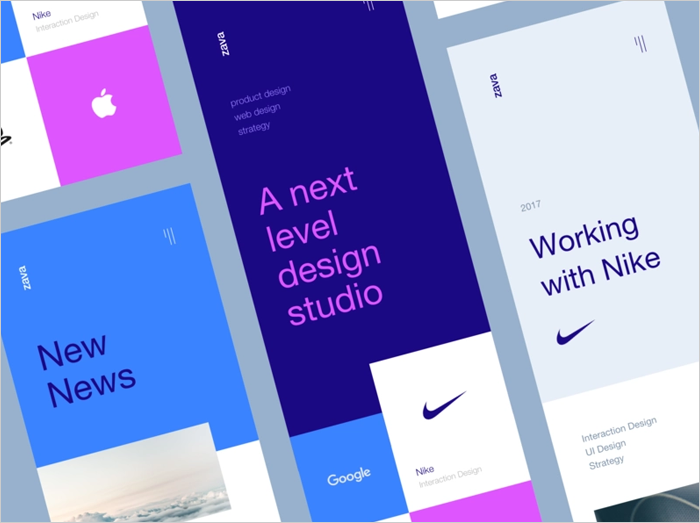 03. Event Discover App 
The event discovers application is for finding events happening nearby. The great thing about this app is its design. It is unlike any other event finding application. The UI of the app has been designed in a way that it shows the organizers' profile and information about the events in detail.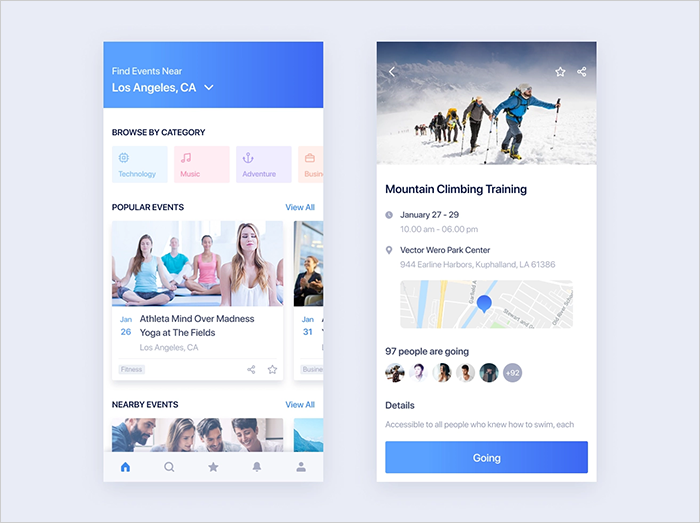 04. Luxury AR Watch App Concept 
Integrating AR with the design of a mobile application is indeed a masterstroke. This application lets the users manage and build luxury wristwatch collections. Users can buy products and even know how it will look at their house with the help of AR technology. The concept of this app is a piece of digital art that is tough to replace.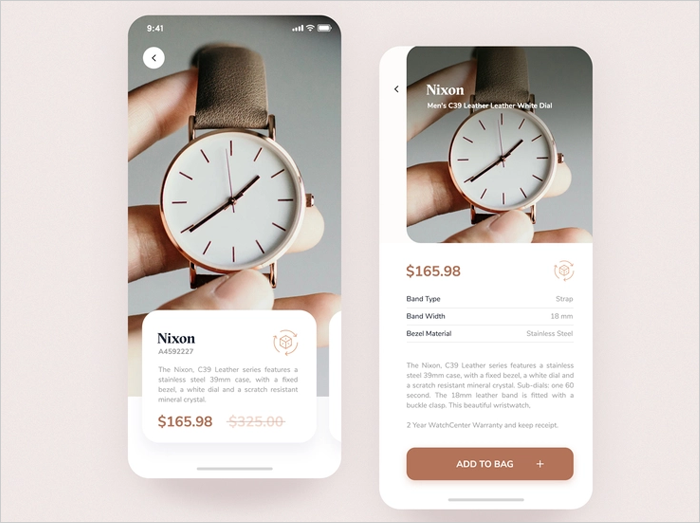 05. The Concept of Workout Tracker 
Another app that has a straightforward yet effective exercise layout, the workout teacher app tracks the physical training that every individual goes through on a daily basis. The application has been designed with the help of a cross-platform application development technology.
06. Your Feeds in a Music App 
There is no application that can do away from social media integration. However, this music app did something else. The developer has designed a feed system into a music application. There are many mobile app design ideas that designers around the globe have taken inspiration from, but mixing music with feeds is an all-together different concept. Think of the fact that now people can experience music in a way they never experienced before.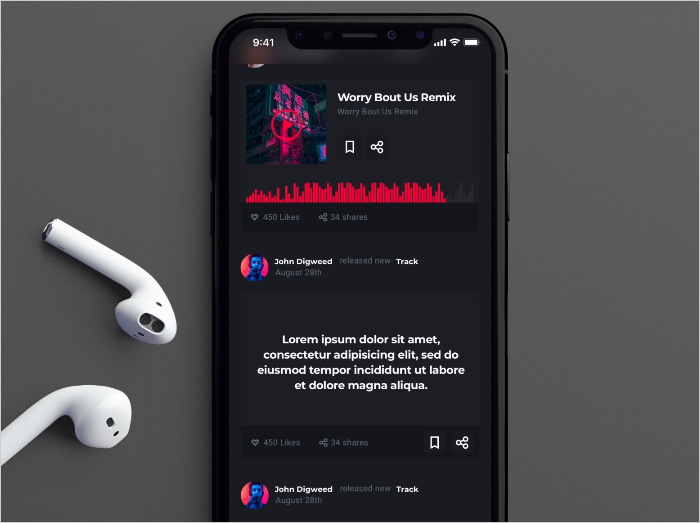 07. A Healthy Food Delivery App
Another UI design app that is rather a vivid food delivery app. This application motivates the users to follow a healthier diet. There are a number of categories available from where users can select what they want to eat.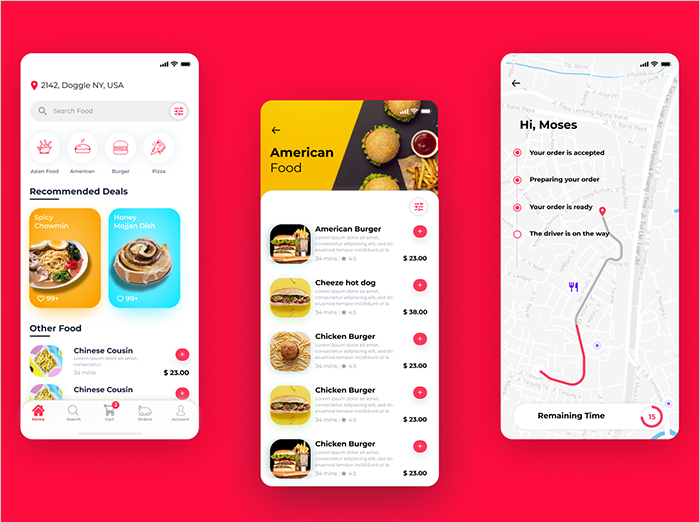 A proper sequence of food items is displayed for ease of use. The photos as well as the illustrations shown are in a vertical order and can be scrolled down smoothly. There also exists a call-to-action button to enable the users to add products to the cart.
08. Workouts App With Card User Screens 
The developers of the workout app have integrated Android application development with utmost creativity. To display more precise information about workouts and sports activities, cards have been used for user interface screens. A prominent number of sports activities are also available from which the user can choose as well as switch to various other screen modes as per their preferences.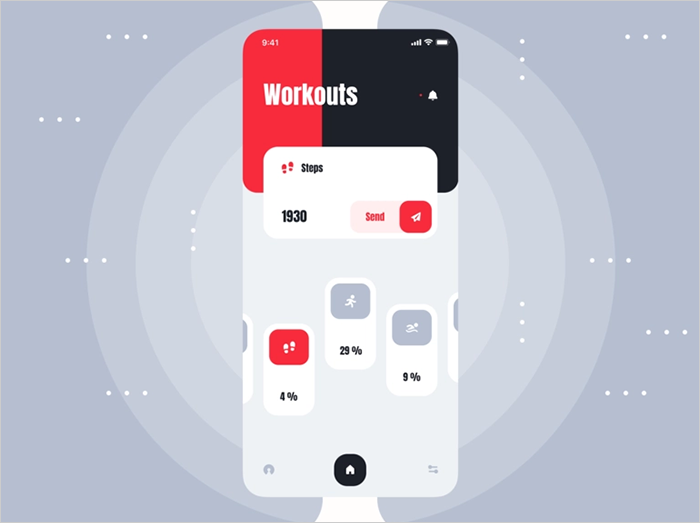 09. App Home Screen Interface 
This is a home screen app that offers upcoming bookings. The splash page consists of pure animation. It increases the ability to catch more and more customers. The color combination and typography acts as a perfect addition. Besides, the layout of the app gives a positive vibe to it. This enhances the user-friendly nature for the users and makes the app much more usable.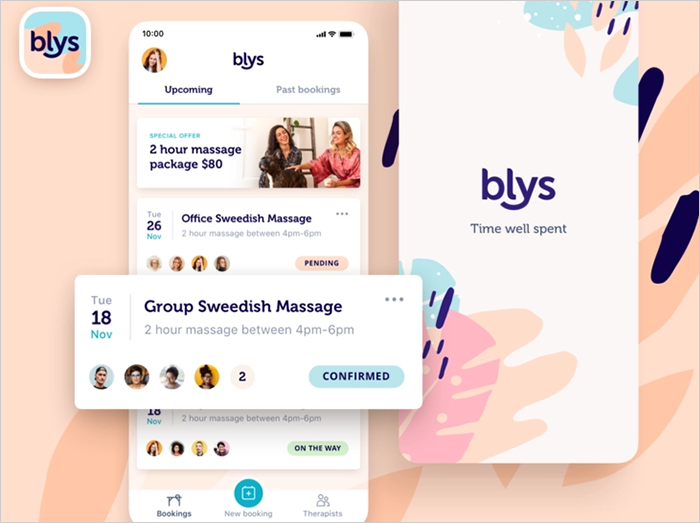 10. Restaurant App Welcome Animation
A welcome animation for the restaurant app seems like a great concept. This app has quality 3D graphics which are extremely attractive and fun to use. Before the sign-up screen appears, there is a mobile app branding in the same which is catchy for the users.
Key Highlights
The designs discussed above portray how versatile developers can be when it comes to creating a favorable UI design. So, to sum up, the top 10 design examples for the user interface, here are the key highlights we can take from the article:
Users today want an app that is interactive and attractive.
App designers today need to focus on the importance of UI.
A quality UI often leads to a hiked business and user-product interaction.
Complexity can be easily countered with a positive user interface.
A short interview with a chatbot makes for a perfect opening in an app.
An appealing color scheme can make the app look satisfying.
Event apps with the organizer's profile is a concept worth following.
Augmented reality is a new technology that is being integrated into apps today.
An app that tracks your physical activity is an outstanding idea.
Mixing feeds with music in a single app is a whole new concept and an amazing one indeed.
An app that delivers healthy food according to your diet attracts a large audience.
Card screens in a workout app is not a bad option.
A home screen that shows upcoming bookings can be an asset for users.
A welcome animation for your app could be a fine addition.
Be it cross-platform app development or native Android app development, there is no replacement for a decent UI design. Mobile UI designs should be according to the needs of the users, and while some developers prefer following guidelines, others require to follow certain tips for designing a mobile app. Besides, Some of the apps mentioned above can be considered for mobile app UI designs.